Jeannine Frisby LaRue to succeed Bryan Epps as Action Fund Board Chair
Jay Wu, Communications Consultant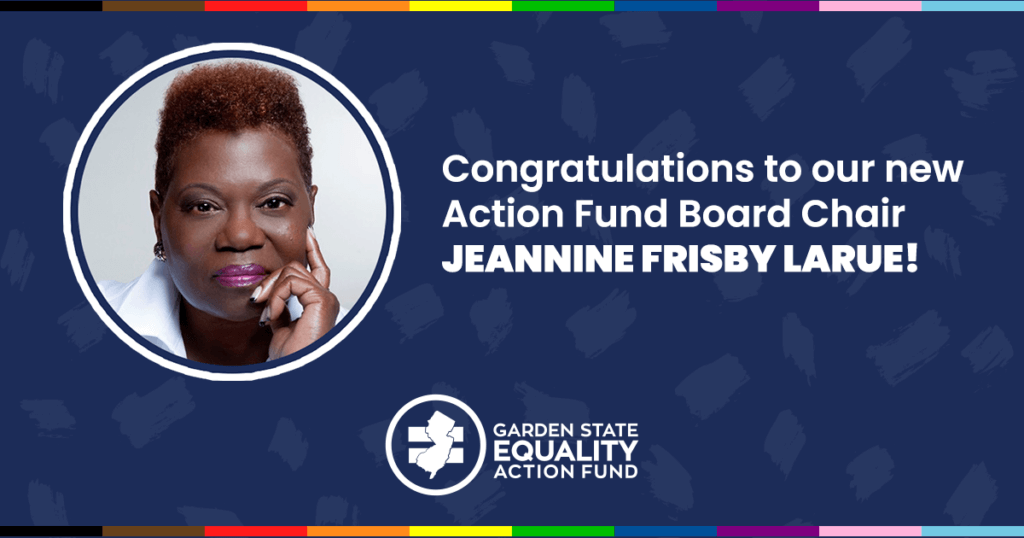 This past week, the Garden State Equality Action Fund announced that Jeannine Frisby LaRue will succeed Bryan Epps as Board Chair. Epps has served as chair for two years, starting his tenure not long before the highly consequential 2020 elections. LaRue, who joined the board last year and was unanimously voted into her new position, is Senior Vice President at the Kaufman Zita Group. Her barrier-breaking career spans four decades and includes work in education, unions, government affairs, and politics.
"It has been an honor to serve on the Garden State Equality Action Fund's board," said Epps. "In the last two years, my fellow board members, Garden State Equality's staff, and our volunteers and members have helped us make great strides towards greater legal and lived LGBTQ+ equality in New Jersey. We've worked with our pro-equality legislature to protect LGBTQ+ older adults and help LGBTQ+ veterans, to codify marriage equality into state law, and to decriminalize HIV and expand harm reduction services. I look forward to seeing what Garden State Equality achieves in the future."
"I am grateful to my fellow Garden State Equality Action Fund board members for putting their trust in me and electing me as their chair," said LaRue, who was unanimously voted into her new position. "I look forward to continuing our work to preserve and advance LGBTQ+ rights in New Jersey, especially as attacks against our communities ramp up nationwide."
---
Advocating for Monkeypox Vaccine Access
Christian Fuscarino, Executive Director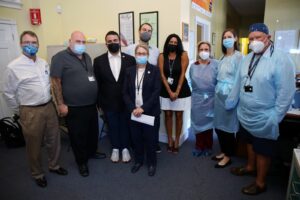 We joined Commissioner of Health Judith Persichilli earlier this week at the VNA Health Group's Prevention Resource Network to talk about monkeypox vaccine rollout. VNA PRN was one of three healthcare organizations serving LGBTQ+ people and people living with HIV that were allocated the first batch of vaccines to distribute. While the second batch will begin to be distributed next week, New Jersey is still in need of our fair share. Contact your federal representative and ask them to advocate for New Jersey to get our fair percentage of vaccines.
---
25 Years of the Equality Federation Conference
Brielle Winslow-Majette, Deputy Director
Last week, the Equality Federation hosted their 25th annual conference in Minneapolis, MN. Garden State Equality sent three of our leaders to the conference, where we had the opportunity to get a taste of the incredible, inspiring work that's taking place across the country in red states and blue states, urban centers and rural areas, from the Pacific Coast to the Deep South.
The Equality Federation conference is an important opportunity for 250 leaders of our state-based LGBTQ+ movement, national partners, and major funders to connect, share best practices, and engage with each other on the challenges and opportunities we face. Our leaders immersed themselves in topics surrounding inclusive curriculums in schools, health equity, racial disparity, and trans and nonbinary joy. We also had some fun, as our Project Manager & Trainer Damien Lopez blazed through the competition, winning 2nd place in the Whova app leaderboard for the week.
The atmosphere was electrifying as we were surrounded by love, hope for the future, support for legislative challenges, and a deeper understanding of the invisible identities we carry 24/7. Our leaders returned with lasting connections, education, and tools to push the movement forward while enhancing our offerings, to continue to expand the impact in New Jersey. As we continue to see anti-LGBTQ+ bills passed across the country, the conference allowed us to see what the world would be like if love wins. With that, Garden State Equality is empowered to continue to fight for lived equality in hopes that in another 25 years, marriage equality, reproductive rights, trans rights, and health and racial equities will be law of the land.
---
Health Equity is Health Care
Jahmila Smith, Project Manager & Trainer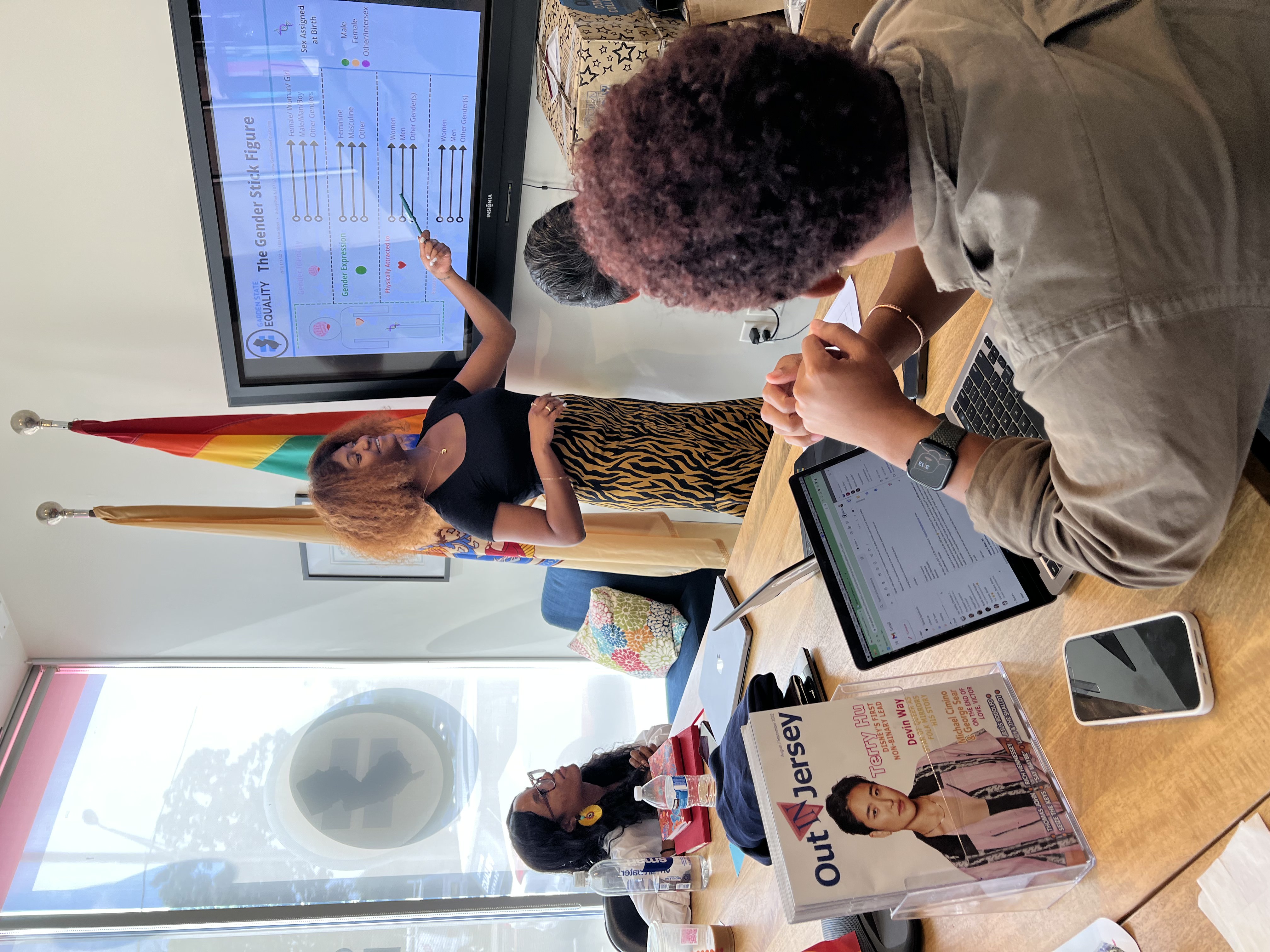 During a time where certain rights in this country are at stake, one of the focuses of Garden State Equality's work is emphasizing the importance of equity and access. Now more than ever, we are seeing an uptick of interest from healthcare facilities recognizing the specific and unique needs of LGBTQ+ people's access to health care.
Facilities in New Jersey are recognizing that the access and services provided to our community are limited, as well as lacking in competency, compassion, and recognition of the bias and discrimination that the LGBTQ+ community often faces. Throughout this month, I've committed to providing more trainings and webinars about sexual orientation and gender identity (SOGI) data collection, focusing on the importance of collecting SOGI data for our community.
Collecting SOGI data is a crucial part of learning, understanding, and communicating with patients about who they are. It's also the number one way to build better relationships with patients and meet their specific health care needs and concerns. LGBTQ+ people are often erased both on micro and macro levels, and we can decrease these outcomes by making more efforts to make these identities visible. SOGI data collection is critical in addressing societal and legal barriers, as well as the health disparities facing the LGBTQ+ population. Some common experiences that LGBTQ+ people face when accessing care include issues with transportation, insurance coverage, recognition and protections within health care facilities, lack of LGBTQ+ cultural competence, and homophobia and transphobia.
Collecting SOGI data creates pathways to growth and opportunity for people to thrive. It also allows clinicians to recognize and respond to health disparities in their LGBTQ+ populations, creating more opportunities for dialogue and trust building. Asking specific questions on intake forms and directly to patients creates a more inclusive environment and communicates to patients that their healthcare provider is invested in their needs and that they will be seen, heard, and respected while in their care.
---
A Man from Newark, a Boy from Bloomfield, and a Pride Flag in Clifton
Damien Lopez, Project Manager & Trainer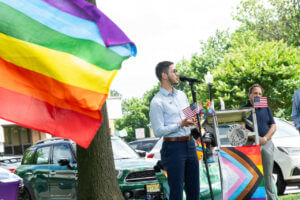 Last month, I had the honor of speaking to attendees of the Clifton Pride Flag Raising. Growing up in Newark, It was hard to feel like I had a community of support around me when who I am was something so taboo and never spoken of. The Clifton crowd was so friendly, and the support of the youth who attended with their parents made me even more hopeful.
Very often LGBTQ+ youth do not come out to their families for fear of being harassed, bullied, or not accepted. I shared the story of Damien Lopez, a 12-year-old trans youth from Bloomfield who unfortunately took his own life. Work like this hits home hard when we know how preventable these situations can be. We are working to put together a rally/march in memory of Damien on October 22 in Bloomfield. I ended my speech with an urge to the attendees to be more kind and compassionate, for we don't know what struggles some may be facing.
The work here at Garden State Equality enables us to continue to speak out for those youth who feel like they do not have a voice. We want to uplift and provide an outlet for LGBTQ+ youth by creating spaces like our Pride Zine! Extending the submission deadline to Fall 2022, we are accepting submissions from LGBTQ+ youth in New Jersey of creative work like poems, artwork, stories, and songs about their lived experiences and communities.
---
Garden State Equality Visits the Ali Forney Center Harlem
Aleyah Lopez, 2021–2022 Fellow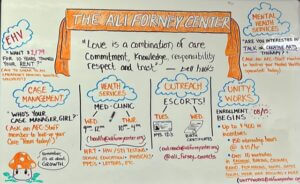 In early July, Garden State Equality visited the illustrious Ali Forney Center in Harlem, New York. During this visit, we learned about the amazing work being done in the community to advocate for and help LGBTQ+ youth and young adults. The Center provides resources, therapy, housing, and so much more.
This visit brought into perspective even more the lack of LGBTQ+ friendly housing spaces in New Jersey. LGBTQ+ youth face an increased risk of homelessness, with trans youth at an even higher risk – that is why this work is so important to us. Garden State Equality hopes to expand housing resources in New Jersey for vulnerable populations through collaborative opportunities with other organizations already doing the work.
---
Take Pride in Being Tobacco Free!
D. Belinfanti, Project Manager & Trainer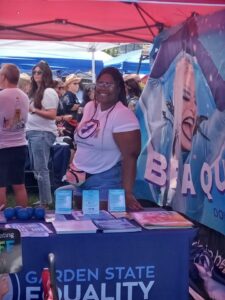 Sometimes, people don't accept tobacco use as an addiction, classifying it as simply a bad habit. However, we know that there is something more to it. The LGBTQ+ community has the highest smoking rate at 20.5 percent, and our youth smoke and vape at two times the rate of youth who are not LGBTQ+. Our role is to educate, advocate, advance policy, and protect LGBTQ+ people who consume tobacco products.
As we head into our second year of tobacco cessation work, we will be hosting our first Take Pride in Being Tobacco Free Virtual Summit on January 12, 2023. If you are interested in support quitting tobacco, please visit our website for resources. If you are interested in workshops, tabling services, or more related to tobacco, please contact D. Belinfanti (she/they) at belinfanti@gardenstateequality.org.